Classroom Grants​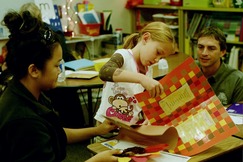 The Education Foundation provides grants to educators in Billings Public Schools to encourage innovation and excellence in the classroom. Since 1997, the Education Foundation has made over 785 grants totaling more than $750,000 to teachers and school personnel. The purpose of the Grant Program is to provide BPS educators with an opportunity to submit requests for financial support for innovative and creative curriculum, special activities, and classroom projects that could not normally be accommodated by the school budget.
A Classroom Grant can make learning exciting for teachers and students because it gives teachers an opportunity to be creative and innovative. A Classroom Grant provides funds for various aspects of a school - academic achievement, technology improvements, students attendance, parental involvement, school climate, etc.
Why Classroom Grants for teachers?
The Foundation and our community believes that directly supporting teachers is one of the best ways to help students achieve and succeed.
Classroom Grants are designed to meet the following goals:
* Increase student engagement, motivation, and exposure to new concepts and ideas.
* Create opportunities to allow all students to reach their full potential through enriched learning environments.
* Strengthen teaching tools and strategies in core academic subjects, including the arts.
* Encourage collaboration and professional development among teachers.
* Increase parent and community involvement in our schools.
Current and Past Grant Recipients
View 2016-2017 Classroom Grant Recipients
View 2015-2016 Classroom Grant Recipients
View 2014-2015 Classroom Grant Recipients
View 2013-2014 Classroom Grant Recipients
View 2012-2013 Classroom Grant Recipients
Classroom Grant Guidelines & Application & Evaluation
All teachers, principals, and school personnel of Billings Public Schools are eligible to apply for a classroom grant. Applicants may apply as individuals or as part of a group. Educators within specific grades as well as across grade levels, subjects and schools are encouraged to collaborate. Classroom Grant applications for the 2018 - 2019 school year are due Friday, March 9, 2018. Classroom Grant Evaluations are due Friday, June 10, 2019.
Click here
to complete evaluations.
---
Help Us Make A Difference
---
A special THANK YOU to our 2017 Classroom Grant Sponsors!
champions of education
Bill & Anne Cole

Billings Builders Exchange

Billings Gazette

Dr. Steven & Christine Klepps

Bill & Liz Fulton

Eric & Sue Nord

Payroll Deduction - BPS Educators

Dr. Donald & Carol Roberts



Scheels Sport Shop

Tom & Susan Wardell

ExxonMobil Foundation



Partners of education
Mike & Sue Baker
​
Shauna Kerr Cumin

​First Interstate Bank Foundation

​Richard & Sally Hall

​Dr. Mark & Josi Wilgus




Diane Boyer Jerhoff

Judy Johnson

​James & Marilyn Kohles

​Harold & Kathy Olson

Dr. Donald & Patsy Peretti

Michael & Lori Smith

Ralph & Tancy Spence

​Paul & Janis Hayes Strom

​Tom & Erin Zimmer
Friends of education
Hewes & Susan Agnew

​Richard & Kathy Aldrich

​Elaine Bankston

Ruth Grossi

​Joel & Ann Guthals

​Rilla Hardgrove

​Steve & Joni Harmon

​Jason & Krista Hertz

Lew Hines

​Mike & Pam Hofferber

​Dr. Bruce & Julie Whitworth

​



Carl & Shelly Castles

​Thomas & Julie Ebzery

​Gainans

Dr. Paul Hoyer

Jeff & Cristi Hunnes

​John & Joan Jacobson

Ellen Knight

Heidi Knudson

​Jay & Stacy Lemelin

Robert & Bonnie Speare

​Scott & Kristi Summers

Dr. Dan & Karen Gall

Jim & Peggy Good

​Fawn Gongre

​Alice Lyon

Ben & Lou Marchello

​Robert & Deborah Marvin

Todd McDonald

John & Deborah Miller

​Honorable Michael & Karen Moses

Janna Palm

​Dr. Robert & Karen Stears

​