reading rocks 2018
June 18th-july 26th
Reading Rocks, a summer reading program in the parks, was a great success in 2017. More than 2,800 books were distributed to children in the Billings community. The Billings Education Foundation would like to thank the many volunteers and sponsors that made this wonderful program possible. We hope to see everyone again in the summer of 2018!

Reading Rocks provides reading activities for six weeks during the summer in conjunction with the School District II's Free Lunch in the Parks, a program that serves over 36,000 free lunches during the course of the summer. Reading Rocks is designed to help low income students continue reading over the summer when reading levels are known to drop. Students can enjoy guest storytellers from around the community at the start of every session. Students are then invited to read with adult and teen volunteers. Finally, all participants select a book of their choice and a prize to take home.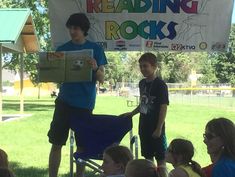 Weekly Schedule for Reading Rocks
(12:15 p.m. to 1:00 p.m.)
Mondays in Castle Rock Park (West Wicks Lane)
Mondays at Orchard Elementary School (120 Jackson Street)
Tuesdays and Thursdays in Central Park (Central and 10th Street West)
Tuesdays and Thursdays in Pioneer Park (3rd Street West and Avenue D)
Wednesdays in Gorham Park (Houle Drive and Miles Avenue)
Wednesdays in North Park (6th Avenue and 22nd Street)
Ways to get involved in 2018:
Volunteer as a storyteller that reads a short book at the beginning of each session to all of the children. The storyteller may also offer an activity for the children that relates to your organization in a fun and interesting way.
Volunteer to talk about topics of interest (e.g. a fireman talks about fire safety, a bicyclist discusses rules of the road and bicycle parts, an artist describes how he makes a sculpture, etc.).
Volunteer to help read with the children after the storyteller is done.
Apply Directly Online
or
Download a Volunteer Application (PDF): Teen or Adult
Please contact Julie Whitworth at (406) 245-4133 or
whitworthj@billingsschools.org
with any questions
---
A Huge Thank You to our Supporters!
Dennis and Phyllis Washington Foundation
Friends of Billings Public Library
Centennial Youth Foundation
Billings West Rotary
Breakfast Exchange
Mary Alice Fortin Foundation
MKM Foundation
Town Pump Foundation
WalMart Foundation
Billings Community Foundation
Burke Family Foundation
Lucky's Market